Recycling
Curbside Recycling Program
Become a participant in the EnviroTech Pierre Curbside Recycling Program!
For an additional $8 per month, EnviroTech Waste Services offers customers a bi-weekly pickup of recyclable items as part of the Pierre Curbside Recycling Program.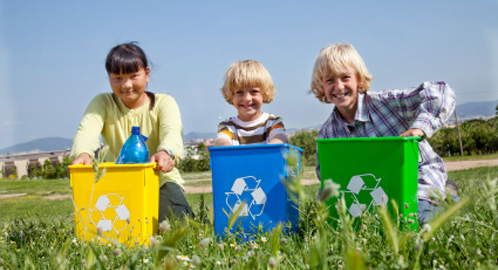 What Our Recycling Fee Covers
The additional $8 not only pays for the EnviroTech recycling bins we provide, but also the cost of shipping recyclables to the sorting center in Sioux Falls, the cost of fuel, and for the wages of the single driver who will pick up the recycling bins with a special truck every two weeks. EnviroTech does not collect any profits from the materials recycled nor from the fee – we simply wish to do our part in catching Pierre recycling services up to that rest of the country.
---
Why EnviroTech Believes In Recycling
Recycling is a daily activity for more than 100 million Americans and a great way to protect our environment and stimulate our economy. Recycling saves resources, prevents pollutions, supports public health and creates jobs. It saves money, avoids landfills, and best of all, it's easy. To understand the value of recycling, we must look at the entire lifecycle of a product – from the extraction and processing of raw materials, to the manufacture of the product, to its final disposal. Recycling creates a closed-loop system where unwanted products are returned back to manufacturers for use in new products. This prevents the pollution and destruction that occurs when virgin materials – like trees and precious metals – are extracted from the earth.
Items Accepted:
Beverage Cartons (juice, milk)
Cans, Aluminum, steel, tin
Cardboard
Glass Bottles & Jars Only

Magazines
Paper Bags
Phone Books
Plastic Bottles
Plastic Containers
Plastic Garbage/Grocery Bags
---
Why Should You Recycle?
Recycling one aluminum can saves enough energy to run a TV for three hours
We use over 800,000,000,000 aluminum pop cans every year!
27% of newspapers produced in America are recycled.
Plastic bags and other plastic garbage thrown into oceans kill as many as 1,000,000 sea creatures every year!
Every month, we throw out enough bottles and jars to fill a giant skyscraper.
New Jersey has the highest recycling rate of all states; 56%!
Rainforests are being cut down at the rate of 100 acres per minute!
A typical family consumes 182 gallons of pop, 29 gallons of juice, 104 gallons of milk, and 26 gallons of bottled water. That is a lot of containers! Make sure they're recycled!
Pierre Recycling
The city of Pierre also provides recycle drop off boxes at Sutley's Grocery on Sioux Ave, Lynn's Dakotamart and at the city transfer station at 2800 East Park Street. With the exception of our Curbside Recycling Program, there are no additional curbside recycling services available in the Capital area.
Find out more about recycling in your area.
Contact EnviroTech Waste Services at 605-224-4804.