About Us
EnviroTech Waste Services of Pierre, SD is a proud member of the Waste Connections Family, a trusted waste management company that serves over two million residential garbage removal, commercial and construction waste removal and recycling clients nationwide.
When you hire EnviroTech Waste Services as your Pierre waste management company, you're hiring neighbors who care about Pierre and the Capital area as much as you. In fact, our main offices are just on 4010 SD Highway 34 in Pierre, putting us right at the heart of the community we so proudly serve.
Reliable, affordable, energy-conscious and environmentally minded – these are just a few of the most important benefits of your EnviroTech service. As the premier waste management company in Pierre, EnviroTech Waste Services creates a safe and rewarding environment for its employees and protects the health and welfare of the communities where we live and work.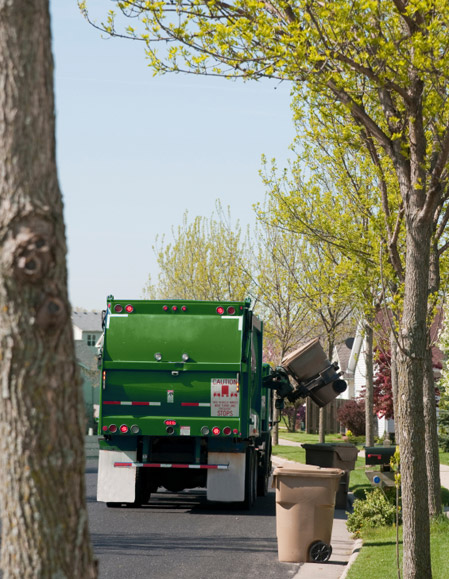 STATEMENT OF OPERATING VALUES
Safety. EnviroTech Waste Services strives to assure complete safety of our Pierre trash and recycling employees, our customers and the public in all of our operations. Protection from accident or injury is paramount in all we do.

Integrity. EnviroTech Waste Services defines integrity as "saying what you will do and then doing it." We keep our promises to our customers, our employees and our stockholders. Do the right thing, at the right time, for the right reason.
Customer Service. EnviroTech Waste Services provides our Pierre trash and recycling customers with the best possible service in a courteous, effective manner, showing respect for those we are fortunate to serve. Drivers are even equipped with radio communications to quickly respond to special pick up requests.
To be a Great Place To Work. EnviroTech Waste Services maintains a growth culture where our employees can maximize their potential both personally and professionally. Our objective is to provide an environment where people enjoy what they do and take pride in their work. We wish to embody a work hard, play harder culture.
To be the Premier Solid Waste Services Company in Pierre, South Dakota. EnviroTech Waste Services continues to provide superior returns, remain environmentally responsible, and continue to grow in a disciplined way, deploying resources intelligently and benefiting communities we live in.
EnviroTech thoroughly investigates the backgrounds of their employees and also conducts drug screening to ensure the drivers they send to your neighborhood are upstanding individuals.
VISION FOR THE FUTURE
EnviroTech Waste Services' goal is to create an environment where self-directed, empowered employees strive to consistently fulfill our constituent commitments and seek to create positive impacts through interactions with customers, communities, and fellow employees, always relying on our Operating Values as the foundation for our existence.