Recycling
Curbside Recycling Program
Become a participant in the EnviroTech Pierre Curbside Recycling Program!

For an additional $9.50 per month, EnviroTech Waste Services offers customers a bi-weekly pickup of recyclable items as part of the Pierre Curbside Recycling Program.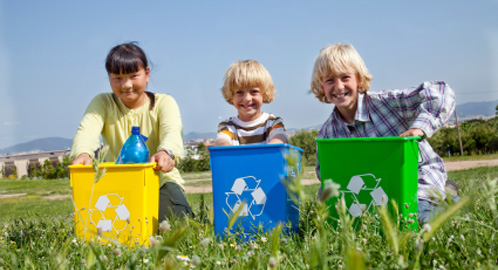 Recycling Right

Now, more than ever, it is important for everyone in your household to only place approved items in the curbside recycling cart. To learn what items are approved, read the list below and read and print the Single Stream Recycling Guide.
The residential recycling materials collected by EnviroTech are delivered to a recycling center in Sioux Falls. If that center finds contaminates (unapproved items) in a recycling load, they can fine or reject the load.
All non-approved items in the recycling cart costs everyone time and money.
Some materials (plastic bags, wires, electronics, etc.) clog sorting machinery and cause safety issues for workers.
Some loads are totally rejected and sent to the landfill.
---
Approved Recycling Items
Please place the items below loose (not bagged) in the curbside recycling cart. All items must be empty of liquid and food waste.
Beverage Cartons (Juice, Milk)
Cans, Aluminum, Steel, Tin
Cardboard, Flattened & Clean
Glass Bottles & Jars Only
Magazines
Newspaper
Phone Books
Plastic Bottles, Tubs & Jugs
Download Single Stream Recycling Guide - Items Allowed and Not Allowed
When in doubt, keep it out of the recycling cart!
What Our Recycling Fee Covers
The additional $8.50 not only pays for the EnviroTech recycling bins we provide, but also the cost of shipping recyclables to the sorting center in Sioux Falls, the cost of fuel, and for the wages of the single driver who will pick up the recycling bins with a special truck every two weeks.
EnviroTech does not collect any profits from the materials recycled nor from the fee – we simply wish to do our part in catching Pierre recycling services up to that rest of the country.
---
Why EnviroTech Believes In Recycling
Recycling is a daily activity for more than 100 million Americans and a great way to protect our environment and stimulate our economy. Recycling saves resources, prevents pollutions, supports public health and creates jobs. It saves money, avoids landfills, and best of all, it's easy.
To understand the value of recycling, we must look at the entire lifecycle of a product – from the extraction and processing of raw materials, to the manufacture of the product, to its final disposal. Recycling creates a closed-loop system where unwanted products are returned back to manufacturers for use in new products. This prevents the pollution and destruction that occurs when virgin materials – like trees and precious metals – are extracted from the earth.
Pierre Recycling
The city of Pierre also provides recycle drop off boxes at the city transfer station at 2800 East Park Street. With the exception of our Curbside Recycling Program, there are no additional curbside recycling services available in the Capital area.
Find out more about recycling in your area.